Knighton has been a Mid Wales market town since 1230 and is still a thriving livestock market.
Knighton is rich in history with half-timbered houses from the 17th century and narrow winding streets. There is evidence of settlement in the area dating back to the Stone Age but the current town is mostly medieval in origin.
There is a Town Trail that takes you around the places and buildings of historic interest in the town, including a section of Offa's Dyke and 'Bryn y Castell' – one of two Norman castle mounds in Knighton (the second is in a private garden). Leaflets containing the Town Trail are available from the Tourist Information Centre, or download a pdf here
King Offa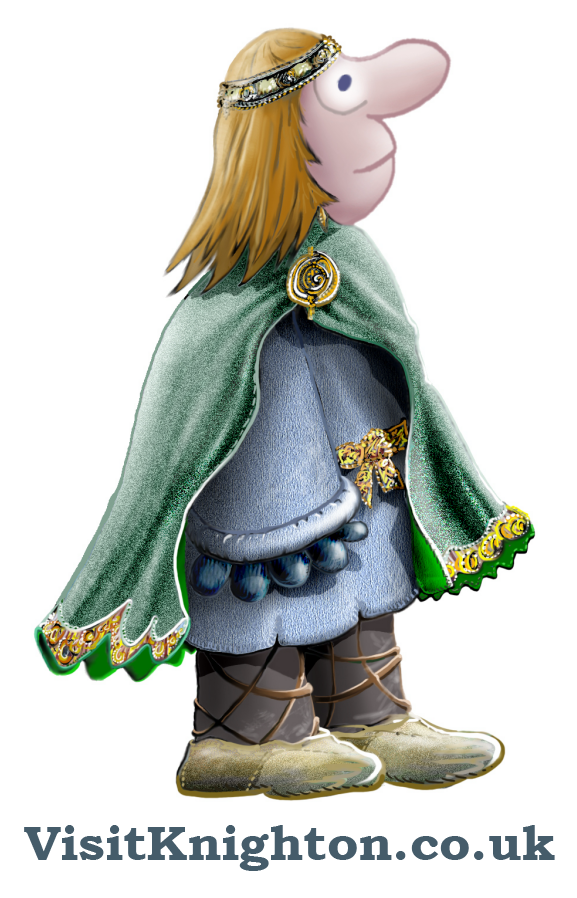 Offa was King of Mercia from 757 to 796AD, and built his famous Dyke to separate his kingdom from Wales. Knighton is also known as "The Town on the Dyke"- it is the only town which lies on the line of the Dyke, and is the home of the Offa's Dyke Centre.
Little Offa is part of the Knighton and District Tourism Group and he stays in Knighton because it is at the very centre of his major earthwork, Offa's Dyke. In fact it is the only town actually built on his Dyke and the famous Offas Dyke path runs from the top to the bottom of the town along its length.
Not only that but Knighton, being right on the centre of the Welsh border, it is just a short hop to all the tourist attractions of Herefordshire and Shropshire as well as being in a brilliant position to reach both North and South Wales easily- what could be better for a holiday?
The Offa's Dyke Centre offers an attractive exhibition that allows visitors to find out about Offa's Dyke and its associated long distance footpath, Glyndwr's Way, and the Norman castles of the border area. The free exhibition covers the construction of Offa's Dyke, the Welsh Princes of the Anglo-Saxon period, the flora and fauna of the area, the history of Knighton and the maintenance of the Dyke and the National Trail. The Offa's Dyke Centre also hosts the local Tourist information Centre and a shop.
Until the mid-1800s it was possible to obtain a divorce by "selling the wife" at the place where the clocktower now stands. The husband would bring his wife to the place at the end of a rope.
Try our Knighton Town Trail to discover more about the history of the town.
Lots of interesting historical photographs on the Knighton Memories Facebook page, kept up to date by Keith Owen
Many thanks to Jemima Jameson for this beautifully artistic map of the town! Click here or on the map below for a Google map of our local businesses, services and attractions.